Collagen and gelatin have been used as materials for various medical devices including wound dressing materials and bone void fillers for a long time. We have been supplying collagen and gelatin with high quality and safety, to medical device companies both within and outside Japan. beMatrix gelatin has also been used as a material in a bone void filler developed by a US based medical company.
Gelatin hydrogel is known as an outstanding DDS carrier that allows sustained release of drugs at specific locations in the body. Dr. Yasuhiko Tabata showed that growth factor release from gelatin hydrogels had good therapeutic efficacy in regenerative medicine for sensorineural hearing loss, skin ulcers, periodontitis, heart failure, etc.
Reference:Gelatin as a delivery vehicle for the controlled release of bioactive molecules. J Control Release. 2005 Dec 5;109(1-3):256-74.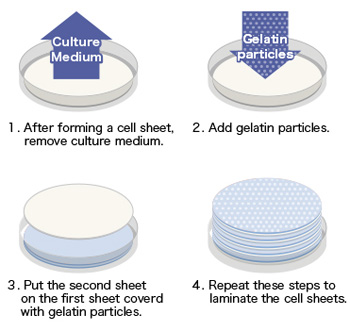 Recently, artificial 3D tissues composed of layers of spheroids and cell sheets have been considered useful tools for drug screening and cell therapy. However, the appearance of central necrosis due to lack of nutrition and oxygen has been a big issue. Dr. Yamashita et al. found that central necrosis can be inhibited by sandwiching gelatin microspheres between cell sheets. Now, over 15 layers of accumulation are possible compared to previous studies where even three-layer accumulation was difficult to achieve without gelatin particles.
Reference:Efficient long-term survival of cell grafts after myocardial infarction with thick viable cardiac tissue entirely from pluripotent stem cells. Sci Rep. 2015 Nov 20;5:16842.
Gelatin and collagen peptide have been used as pharmaceutical additives, as stabilizers and excipients. It is expected that they can also be conveniently used for novel types of drugs related to nucleic acid therapy, virotherapy, cell therapy, etc.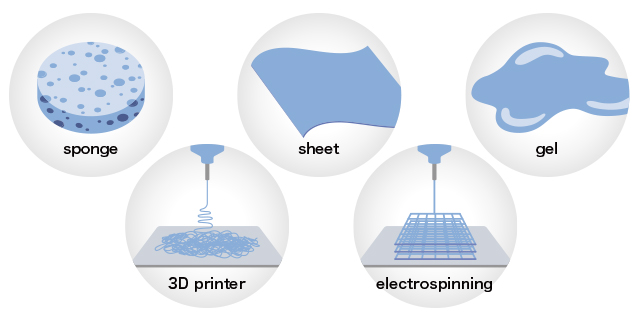 Collagen and gelatin show excellent properties of cell adhesion and biocompatibility as well as ease of formability. Therefore, various scaffolds like sponges and gels have been developed as cell transplantation carriers. Recently, more complicated scaffolds using gelatin and collagen are being designed with new fabrication techniques including 3D printing and electrospinning.
The development of new and efficient cell transportation systems is very important for expansion of regenerative medicine. It is known that cells can be protected from shock during transportation and delivered with high viability by solidifying them in collagen or gelatin gels. We have been developing a new type of gelatin optimized for cell transportation.
Reference:Evaluation of gelatin hydrogel as a potential carrier for cell transportation. J Biosci Bioeng. 2014 Jul;118(1):112-5.
Gelatin sealants have been developed considering their safety and chemical modification ability. Taguchi et al. developed a new type of gelatin sealant with improved adhesiveness easier to handle than conventional products. This sealant was developed using gelatin derived from the Alaska pollock produced by Nitta Gelatin.
Reference:Enhanced Sealing by Hydrophobic Modification of Alaska Pollock-Derived GelatinBased Surgical Sealants for the Treatment of Pulmonary Air Leaks. Macromol Biosci. 2017 Apr;17(4).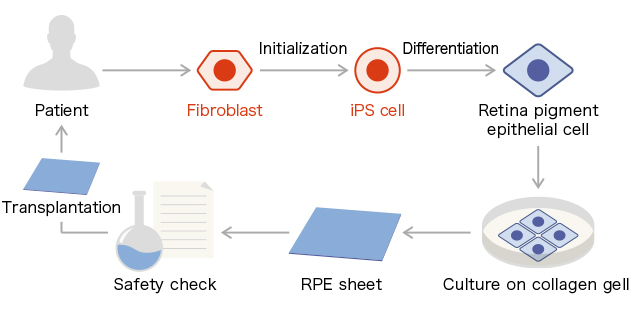 With collagen gel, cells can be cultured in an in vivo mimicking environment. Therefore, they have been used as research tools in the field of medicine and biochemistry for more than 30 years. In addition, they have been recently applied as carriers for cell transplantation and in scaffolds for stem cell differentiation.
Reference:Characterization of human induced pluripotent stem cell-derived retinal pigment epithelium cell sheets aiming for clinical application. Stem Cell Reports. 2014 Jan 23;2(2):205-18.