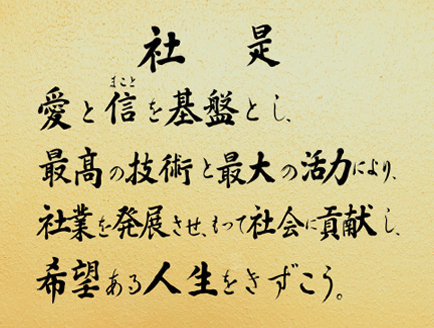 Based on a spirit of empathy and sincerity, we, the members of the Nitta Gelatin Family, are dedicated to the development of our business and contributions to the global community. We will lead prosperous and fulfilling lives through our competence and utmost efforts.
"To help people stay healthy and feeling young"
Nitta Gelatin group fulfills this desire of people worldwide through our relentless pursuit of meeting collagen's enormous potential.
We will provide products and services that meet our customers' expectations of continued improvement.

We will broaden the range of collagen applications through our ongoing efforts in R&D and production innovation.

We will pioneer and create new markets by fostering a corporate culture that encourages facing and overcoming challenges.
Nitta Gelatin has adopted six Principles of Business Conduct based on its corporate philosophy so that it can more precisely meet the needs of customers and society.
We provide products and services that exceed customers' expectations.

We comply with the codes of ethics, business practices, and relevant laws and regulations in each of our host countries.

We value our relationships with shareholders and other stakeholder groups and disclose information in a timely fashion.

We contribute to the global community by always treating people and the environment with the utmost care.

We create a participative and rewarding workplace.

We achieve our self-set goals with passion, speed and perseverance.
We, the Nitta Gelatin Group, strive to always think and act according to our customers' expectations by providing high quality, reliable, timely and safe products and services.
We shall comply with all applicable laws and regulations.

We will always strive to improve the quality of our products and services.

We will reinforce our supply chain relationships to ensure stable supply to our customers.
We, the Nitta Gelatin Group, conduct business activities with the environment, health, and safety in mind for society in general, as well as host communities, and all the employees of the Group, thereby contributing to the realization of a sustainable society.

We will conserve the environment and ensure health and safety in compliance with applicable laws and regulations.

We will assess the impacts that our business activities may have on the environment, health and safety, as well as improve any areas of need by setting targets.

We will communicate our environment, health and safety policies to all the employees of the Group in order to raise our awareness of such imperatives.